Shalom, my name is Shlomo Gurevich.

I live in one of the most beautiful places in the world called

Hoshaya which is situated in Lower Galilee, Israel, near the ruins of ancient Zippori.

I am retired electrical engineer. For 29 years I worked for

Israel Electric Corporation. All my spare time I dedicate to my family's genealogical research which I started about 20 years ago from now. This research, quite unexpectedly brought me to the wonderful discovery - the glorious saga of the great Horowitz family which descendant I think I am. My dream is to find out where my family tree is connected to a known branch of the main Horowitz genealogical tree. On the 1999 photograph below you can see me lighting a candle at the grave of rabbi Yishayahu ben Avraham Ha-Levi Horowitz, known as the Holy SheLaH, one of the most prominent rabbies and scholars of the Horowitz family.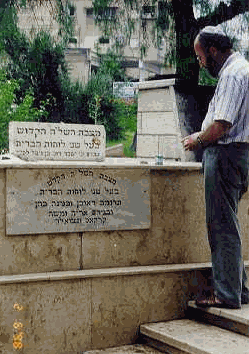 Since then I got older, and the tombstone was replaced by more pertinent one, but my interest to the Horowitz family history is still great. As the outcome of this interest were my book and the CD which I published on the Horowitz family history and genealogy. I also created the website of the Horowitz Family Association, of which I am the Board Member.
My presentation on the Horowitz family history was made at the 22th International Conference on Jewish Genealogy in 2002, and on the history of Chislavichi, my ancestral shtetl, at the 26th Conference in 2006.
Home
---